So I am three days out from the
Avanti Classic
- the 80km handicap race that was initially my main goal race for the year.
Whilst my goals have changed, this will still be a key event for me for 2012. It'll now be used as a 'training event' for me, as I build towards a couple of big road races in August.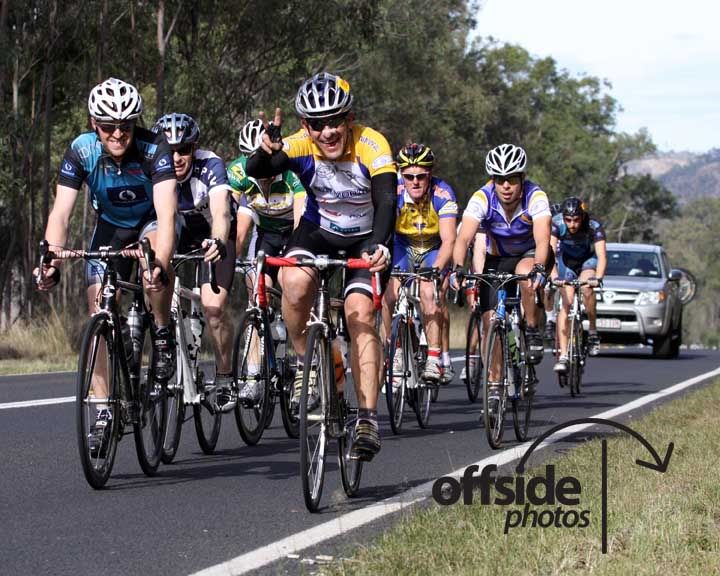 That's me in the white helmet on the right side of the picture, during the 2010 race.
Am I ready?
The last couple of months of training have been terrific. I've been averaging almost 200km/week, and I've felt the improvement in my legs. The only hiccup has been a couple of weeks off the bike to work travel and a cold - but I think that almost worked in my favour. While 2 weeks was clearly too long, the break did help my legs have a full recovery from a big increase in mileage through May.
I did my last 'hard' pre-race sessions on the bike today as well, and set personal bests for my overall commutes to and from work - another positive sign for the race on Sunday!!
My race day goals.
I've raced the Avanti Classic twice before. In 2009, I completed the 80km race in 2hrs 51min (and was the 3rd last finisher!). In 2010, I had a much better race - a course change caused by roadworks meant it was a 90km race, but I finished in exactly the same time of 2hrs 51min (this time, I was the 6th last finisher).
While it's hard to goal set when you are at the mercy of the handicapper, which can have a significant effect on the final outcome, I'd like to see a quicker time for the 80km race. How fast? I'm not sure, but finishing under 2hrs 40min would definitely be a big success in my book...
What's left to do?
I'll take tomorrow off to rest my legs, and maybe have a short, easy spin on Saturday morning depending on how I feel.
More importantly, the bike will get a good clean on Saturday. A sparkling clean, freshly lubed drive-train will add that bit of extra zing, plus give me a mental edge as I toe the start line.
It should be a great day of racing. The weather forecast is for fine and sunny conditions, with a coolish top temperature of 19 degrees. Whatever happens though, at worst I know I'll enjoy a great 80km on the bike... :)